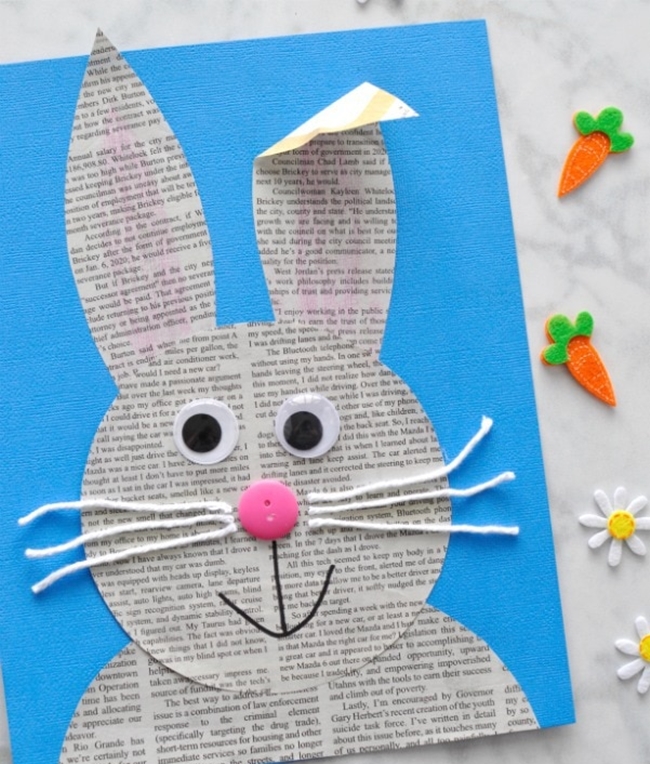 Newspaper is one of those materials that we can keep to make a wonderful children's craft later on. The truth is that there are many crafts with newspapers. Activities that we can do with our children to spend time together and develop their imagination and dexterity. Today we show you one, we are going to make a beautiful bunny with newspaper. We can't deny that they are animals that all little ones like, so it will be a lot of fun for them.
What do we need for this craft?
Solid color cardboard (which we like best).
Newspaper.
Bulging eyes.
Pink button.
White wire.
Pink marker.
Black marker.
Glue.
Scissors.
Step by step of this children's craft
The first thing to do is draw a bunny face on the newspaper with a pencil. A circle for the face and elongated ears are enough. If we want, we can look for a template or a drawing to inspire us. Use the pink paint to color the inside of the ears.
Cut out all rabbit parts separately and stick them on the cardboard. Glue the body first, then the face and finally the ears.
The ears should be a size sticking out of the cardboard. One can be folded to give the creation a little more depth.
It's time to glue the googly eyes and also the pink nose. Also cut six whiskers from the white yarn and stick them on the sides of the nose.
Finish the craft by drawing a line on the nose and mouth with the black marker.
A craft that is a lot
We really like this craft because the truth is we can make any other animal we can think of. In children's books we find endless simple options to mimic a bear, a fox or even a shark.
Images via: iheartcraftythings