Today we go to one of the most beautiful places in the house: The Girls' Rooms! Sometimes we like to look for a lot of inspiration, spaces and children's spaces to create a storm of ideas in our head so that we have more Naturally what we like . If you need to furnish a room for the little princess of the house, you've come to the right place, because we have 20 ideas to decorate girls' rooms and while some of them wear pink, we know it's not essential and that's why we've got a lot more to show you, with different styles, lots of details and lots of charm.
Vintage Girls Rooms
Who can resist the rustic and romantic wrought iron beds? They are ideal for creating a vintage atmosphere and should be combined with textiles that soften the presence of metal. In these rooms, textiles with soft colours, hair carpets and fine prints on children's wallpaper have been chosen. The last set couldn't be cuter.
If you have one of those beautiful wooden children's beds with vintage accents instead of a wrought iron bed, that's perfect, because wood itself is an element that provides a lot of warmth. To renew the style of the furniture, you can paint it white, so that you can give a certain Scandinavian touch to the nursery.
Children's rooms for girls full of color
Although the Scandinavian style is the trend of the moment, many mothers opt for colorful spacesbecause the little ones whistle at it. If it's what you have in mind, you can do it in many ways. Choose a fun children's wallpaper as the protagonist and hang colored lanterns that match the shades of this paper. Easy and very cool. You can also paint the walls like that baby room with mountains in salmon color. There are hundreds of ideas for adding color, you just need to pick one to be the center of attention.
Scandinavian-style girls' rooms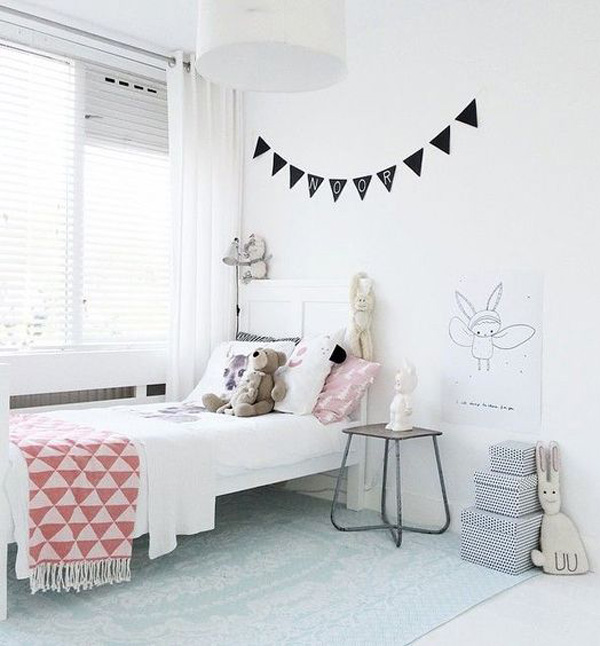 We will never miss Scandinavian style inspirations, at least we hope so, because it has not prevailed. Those simple environments that are always delicate and current, without getting boring or boring, but rather special and very cool. In these girls' rooms, we see that white overwhelms everything, but there are some touches of pink to give it a little feminine touch.
There are many Scandinavian style ideas, so many that we would spend all day showing ideal rooms. It's a perfect style for boys and girls, and even babies, which also has the advantage of being so simple that it is very easy to adapt to changes as the child grows† In these rooms we see ideas such as a white bed in the shape of a house or a beautiful pink crochet rug.
Eclectic style rooms for girls
Do you love to mix? If you like a lot of different things, but you don't know if they fit in the same style, then we have good news, because that's called an eclectic style, where different trends are mixed in the most creative and fresh way. In these rooms we see modern ideas with other vintage craft style pieces and cheap furniture. There's a whole world when it comes to making fun mixes, so be brave and see what comes out.
Minimalist children's rooms
There are those who say that less is more, and that's why we also have those ideas that reduce everything to a minimum, with the most minimalistic style. Rooms in which we see a bed, yes, always in beautiful shapes, and some details, such as the table in the shape of a tree trunk or the silver trunks. The rest is space for the little ones to fill it with their imagination and their games†
Rooms for girls with colors that are not pink
It's true that pink is always used to emphasize that it's a girl's room, but we don't have to do it in a classic way or where pink is the only protagonist. There are more colors that could be just as sweet, like lilac, which also gives it a more modern and fresh touch. You can also add pink in small strokes to make room for trendy basic shades like gray.
Girls rooms with wallpaper
Children's wallpapers are a great resource when it comes to bringing children's rooms to life. If you search online stores, you will surely find all kinds of reasons to decorate the walls of our princesses. Stars, clouds, animals or moles. There are so many great ideas that completely transform the room.
Study places in girls' rooms
When they grow up, their study space should not be missing, so we can also add it without breaking with the delicate style of the children's room. With a fur carpet, some decorative details such as streamers or children's pictures and we have the ideal place for them to study.
All these ideas come from Pinterest They tell us about the current trends, and also that there are countless proposals to freely choose what we like the most. And if you need more inspiration in girls' rooms, you know where to find it, because this is where we always stop looking for new things.